I saw Meltotheany post this tag today and I couldn't help myself! Keep reading for the A-Z of my bookish life. XD
A
Author you've read the most from:
Fairly certain I have read more VE Schwab than anything else! Between reads and re-reads, I am a total Schwabaholic.
B
Best Sequel Ever:
I have to go with Words of Radiance by Brandon Sanderson. No 2nd book has ever shocked and surprised me quite as much as this one.
C
Currently Reading?:
Two Dark Reigns by Kendare Blake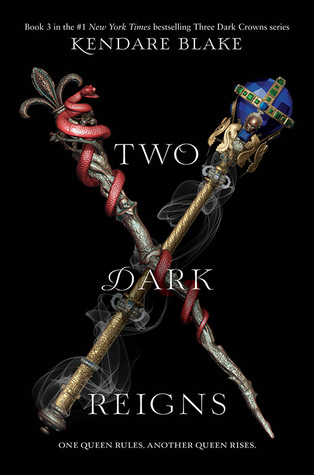 D
Drink of choice while reading:
Coffee for sure! Preferably Book Lovers Coffee!
E
E-reader, or physical book?:
Since I'm getting really into Netgally reviews, I am on my Kindle a lot more. I just got a new one and a fancy new case so I'm loving it. In general, my preference is for physical books.
F
Fictional character you would have dated in high school:
I would have dated Wylan. He's the sweetest, but I could never take him away from Jesper.
G
Glad you gave this book a chance:
Definitely Give the Dark my Love by Beth Revis! One of my favorite books of the year, and I almost skipped it!
H
Hidden Gem Book:
Can I say Give the Dark my Love twice? Another recent favorite of mine is The Casquette Girls by Alys Arden.
I
Important moment in your reading life:
The day I subscribed to Owlcrate! That box eventually led me to bookstagram, and opened up so many bookish interests and opportunities for me. My life is so much richer thanks to Owlcrate.
J
Just Finished:
Black Wings Beating by Alex London. Not a fan.
K
Kinds of books you won't read:
I don't really get into romance. If a book seems like it will have a huge focus on romance I usually skip it.
L
Longest book you've read:
Oathbringer by Brandon Sanderson at over 1200 pages.
M
Major book hangover because of:
This is a hard one for me, I don't get a lot of book hangovers. I did get one after Strange the Dreamer.
N
Number of bookcases you own:
I have 4 bookcases, and I really don't have room for anymore. I also have a set of floating bookshelves that I love!
O
One book you have read multiple times:
Six of Crows duology by Leigh Bardugo.
P
Preferred place to read:
On my couch right next to my book shelves!
Q
Quote that inspires you/gives you all the feels from a book you've read:
There's a quote in The Dark Descent of Elizabeth Frankenstein by Kiersten White that I love.
"Bring me back an equation. The most beautiful equation you can find!"
I think it says a lot about Elizabeth and really speaks to her character and what she wants out of life.
R
Reading Regret:
Rabbit & Robot by Andrew Smith. Just not a good choice for me.
S
Series you started and need to finish:
The Daughter of Smoke and Bone series! I read the first one and I loved it so much and then I never continued.
T
Three of your all-time favorite books:
Vicious by VE Schwab
Illuminae by Jay Kristoff and Amie Kaufman
Scythe by Neal Shusterman
U
Unapologetic fangirl for:
All the Cosmere books, I need all things Cosmere plz and thank you. Some of Brandon Sanderson's series connect. I love when authors do tie-ins for their series, and I think the Cosmere is the #1 example of this. I am so into finding all the repeat characters and hidden connections between the books.
V
Very excited for this release:
I feel like I would be a fool if I didn't say Vengeful for this one! Vicious was one of my favorite reads this year, and after hearing Schwab talk a little bit about her inspiration for the sequel, I am so looking forward to seeing where she takes the series.
W
Worst bookish habit:
Buying books and never reading them, or just buying a book before I know I want it forever. I don't have a ton of space for books in my teeny tiny San Diego condo, so I have to curate my book collection a bit carefully. Netgalley has been a big help because I'm not mostly buying finished copies I know I love after reading the e-Arc.
X
X Marks the spot – Start at the top left of your shelf and pick the 27th book:
I went to my TBR shelf, and I found Temeraire by Naomi Novik!
Y
Your latest book purchase:
I believe it was a copy of Warcross that I painted for Marie Lu.
Z
ZZZ-snatcher book – last book that kept you up past your bedtime:
Priory of the Orange Tree! Though to be fair, I was doing a readathon at the time, so it was my goal to stay up super late. Regardless, I found it really hard to put it down, and I can't wait for everyone to get it in February!
I love when people leave these open to everyone, so if you read this far consider yourself tagged! (Though Milana & Jena, if you are reading I would love to see your answers <3)